Our History
The University of Texas Staff Council was developed in 2001 as the result of efforts by Human Resources (HR), with widespread support from President Larry Faulkner and the University Leadership Council.
In a fall 2000 letter to university staff, HR discussed the establishment of a Staff Council which would represent the interests of all staff on a variety of workplace-related issues and have elected repersentatives from across the campus. The Associate Vice President for Human Resources, Kyle Cavanaugh, indicated that in his prior positions at Rice and Vanderbilt Universities, he had worked closely with staff councils to ensure communication between staff and the university.
Goals & Purposes
The goal of Staff Council is to promote a positive, collaborative work environment. The purposes are many:
To serve as a representative advisory council
To provide a vehicle for communication of interests, concerns, and issues that affect staff
To present recommendations to university leadership
To provide nominations to university standing committees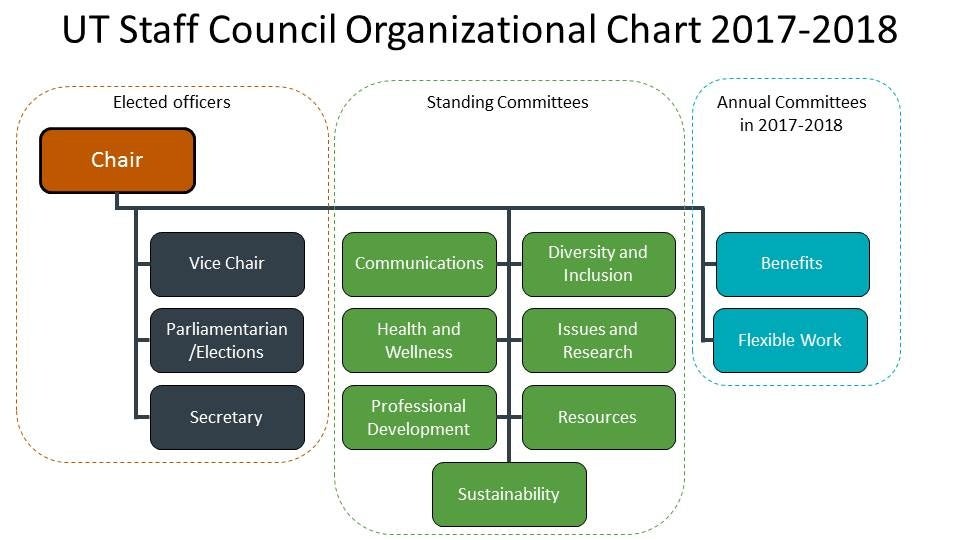 *The organizational chart is an example of how committees are typically organized. The Chair oversees the whole UTSC body and each representative is either an officer or part of a committee. The Standing Committees are written into our bylaws and will always exist unless the bylaws are changed. The annual committees are created and dismantled from year to year, though committees may extend more than one year if the Council sees the need. Sometimes there are ad-hoc committees formed as the need arises. The Elected Officers (Chair, Vice Chair, Parliamentarian, and Secretary) and all of the Committee Chairs make up the Executive Committee. 
Organizational Structure
Staff Council Representatives are nominated and elected by eligible staff members at the university into one of approximately 70 Staff Council districts. These districts follow the general UT Austin organizational structure, first by Vice-President portfolio, then by Dean. The districts are designed so there will be a Staff Council Representative for roughly every 100 employees.
A full-term for a Staff Council Representative is 2-years. Odd-numbered districts elect representatives in odd-numbered years, and even districts in even years. In districts with multiple representatives, the final decimal numbers indicate election years (i.e. the representative for district 160.1 is elected in odd years, 160.2 in even years).
The Staff Council Representatives serve on at least one committee and elect officers (Chair, Vice-Chair, Recorder/Secretary, and Parliamentarian) and committee chairs each year.
Generally, Staff Council Chairs and/or Vice-Chairs serve as the campus representatives to the UT System Employee Advisory Council after their term with the UT Austin Staff Council ends.
Please see the UT Staff Council Bylaws for more details on committees and the Council's structure.